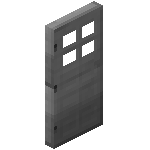 There are two groups of doors.
1. Normal doors (wooden doors and iron doors)
2. Redstone doors (uses pistons and redstone to to open it [i guess iron doors fit under this group.
Wooden doors can be opened by either left-clicking or right-clicking on the door.
Iron doors can only be open via a redstone torch a redstone wiring with a powers source e.g a lever or a button.
Piston doors can only be opened via redstone wiring leading to the pistons. Pistons doors can only be made by placing pistons facing to a block which will open and close when you flip the switch.
Pictures of how to make irons doors and wooden doors below.
Click here to watch a short video that i made on how to make a piston door.
Wooden door.
Ingredients
Outcome

| Wooden Planks | Wooden Planks | Nothing |
| --- | --- | --- |
| Wooden Planks | Wooden Planks | Nothing |
| Wooden Planks | Wooden planks | Nothing |
Ingredients
Outcome

| Iron Ingots | Iron Ingots | Nothing |
| --- | --- | --- |
| Iron Ingots | Iron Ingots | Nothing |
| Iron Ingots | Iron Ingots | Nothing |